Help us spread the word about Pabau by tweeting about the release.

After two solid years of development work, Pabau 2 is nearly here.
We're super excited to show you what it's all about. But the key takeaway is this: it's not an upgrade or an update. It's a whole new product. We've built Pabau 2 from the ground up using our 10+ years of knowledge about what our customers need from clinic management software. The result is an all-in-one solution that will take your business to the next level.
It won't be long until you get your hands on Pabau 2. And we hope you'll be as hyped about it as we are. In the meantime, here's a flavour of what you can expect…
Feature Highlights
Brand-New Calendar
You said you needed a faster calendar? We heard you.

What's new: A Formula 1 car in Monte Carlo has got nothing on the brand new calendar in Pabau 2. You can now expect load speeds that are significantly faster.
What it means for you: No more waiting on the calendar to load up on your screen, because no one has time for that, right? Now you and your team can work much more efficiently.
Additional Calendar Features
Live preview
See everything in real-time with the live preview feature.
What's new: The live preview means that every member of staff can see everything on the calendar in real-time, including clients who are in the process of booking an appointment.
What it means for you: No more making decisions based on out-of-date information. Use it to prevent double bookings of time slots and ensure maximum rota utilization.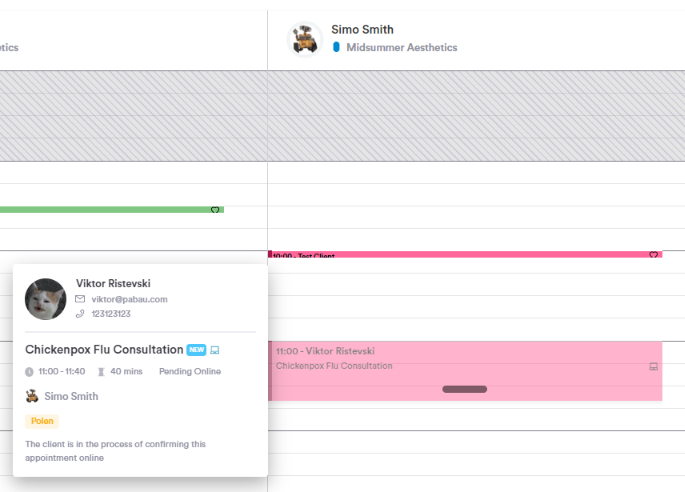 Screen-specific adaptability
The calendar can now adapt to screens of all shapes and sizes, showing you the best view you can get on your screen.
Improved filters
Tired of seeing information you don't need? There's a feature for that.
What's new: We've improved filtering so you can now filter by location, employees and appointment statuses, and see only the staff members who work on a specific day and location.
What it means for you: Now filtering is now as easy as 1, 2, 3! And we mean that literally, by the way. You can switch to your favourite combination of filters in just three clicks.
Booking warnings
Say goodbye to booking errors with Pabau 2's booking warnings.
What's new: We've introduced a brand new warning system that will let you know if a room is already booked, equipment isn't available, or someone is already booked in.
What it means for you: Booking mistakes can now be a thing of the past - the system will automatically tell you if there's an issue with the appointment you're booking.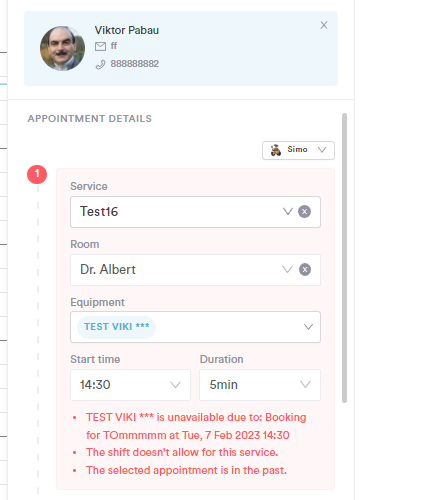 Multi-appointment management
Managing multiple appointments doesn't have to be complicated.
What's new: We've made improvements to the appointments feature that will make booking, rescheduling, and cancelling appointments quicker and easier than ever.
What it means for you: Ever get to 5pm and not know where the day has gone? It goes on tasks like this! This feature reduces the admin time spent on amending appointments.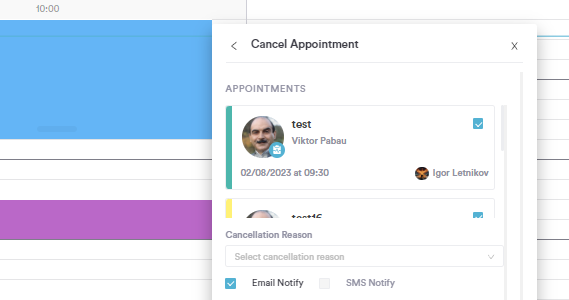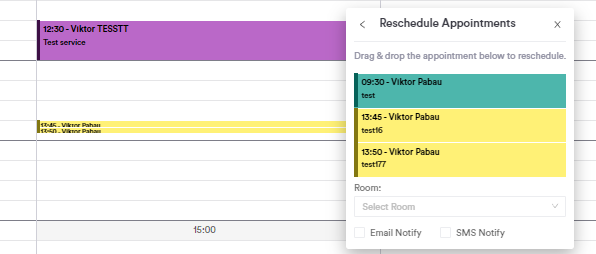 Confirmation manager
Get a list of all the clients who confirmed their appointments, as well as the one who had them declined, waiting on reply, or unable to contact, on a daily basis.

Revamped Client Card
All-in-one dashboard
Neatly store all information you need in one place.
What's new: The dashboard enables you to access key patient intel, at a glance. Find information about upcoming appointments, medical history, purchases and more.
What it means for you: It keeps everything neat, tidy, and ordered. Use this and you won't need to click through different features to find the information you're looking for.

Custom field management
Pabau 2 is all about customisation, including custom field management.
What's new: You can now create custom fields directly from the client card. Additionally, you can customise the fields you use and remove the ones you don't need.
What it means for you: The information that clinics need from clients is always changing. Using this feature, you can focus on the patient intel that your clinic needs.
Relationships
Make sharing information simple with the new Relationships feature.
What's new: The relationships feature on Pabau 2 means you can share information with family members, their GP, and their insurance providers - all at the click of a button.
What it means for you: Less admin work for you, for a start. Payments are also part of this feature, where you can have a family member pay for a service for a child, for example.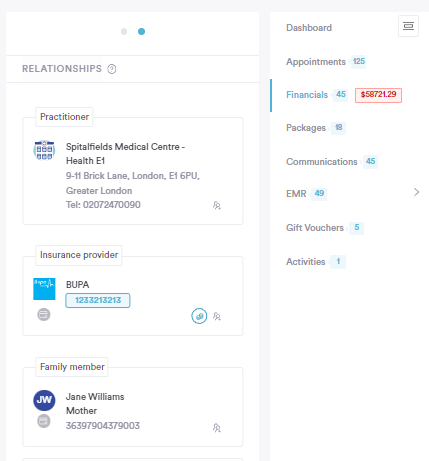 Labels
Like the labels feature in Pabau 1? It's now even better.
What's new: The all-new labels feature in Pabau 2 means you can see everything you need about a client, at a glance. From no-show-ers to big spenders, there's a label for it.
What it means for you: Aside from the above, it makes customer segmentation and targeting even easier. Use labels to plan targeted marketing campaigns for maximum impact.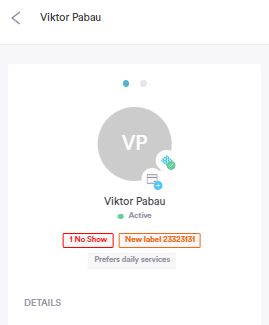 New photo editor
Say hello to the next-gen photo feature in Pabau 2.
What's new: We've powered up the photo feature in Pabau 2. You can now create a comparison slider, compare multiple photos, or even create a progress gallery of the client.
What it means for you: It's now easy for you and the client to see the impact of their treatment.
With the ability to organize photos into albums, your best pics are at your fingertips.
Customizable patient journey
Aside from being treatment-specific, the care pathway feature is now patient-specific, too. While the patient journey being mostly the same, you can now add as many consent and treatment forms you need, if needed for that one patient.

Advanced analytics
New and improved analytics will help you unlock the insights you need.
What's new: Expect new and improved reporting to help you dice and splice your data. Couple that with a suggestions feature on what to run reports on - plus, our new pie charts!
What it means for you: You can't make any improvements to your business if you don't have the right data. The analytics in Pabau 2 will help you uncover any critical gaps.
Money
Keep tabs on your ingoings and outgoings in Pabau 2.
Get a tabular overview of all the invoices, all the payments, all the appointments, and all the items sold in the business, organized by your preferences. Get a list of specific items that meet your criteria.
Task Manager
Make delegation even easier with the revamped task manager that reshapes the task delegation process.
With a only a few clicks, a staff member can delegate tasks to other staff members specific to a client or lead, and keep track of the status of each task. Activities can be segmented into activity types for better classification.