Concept:

Summary
With a brand new dashboard, user notifications, improved access to data, simplified user interface, the Pabau Connect portal is even more user-centered than ever.
Connect is entirely focused on your patients, and giving them the ability to control their data. The difference between our connect and others, is that the records is and always will be yours. Whilst the app is built for patients to download, you are in entire control of what they can use, and how they use it.
Here's a rundown of the improvements.
Pabau Connect dashboard
As part of the revamp, we wanted to grant the user access to even more data from a single screen, comfortably. Enters Pabau Connect dashboard. The client can see a list of appointments, upcoming and past, appointment activity and the brand new notifications system, bringing a new way of communication with the client.

Notifications
Ensuring all details are communicated is crucial than ever, which is why we introduced the notifications system. It's primary purpose is to keep the user up to date, and to make sure that users won't forget about their appointments, thus aiding the client notifications system.
Improved data access
Aside from uploaded documents, users will be able to see all the medical records shared to them by the staff members.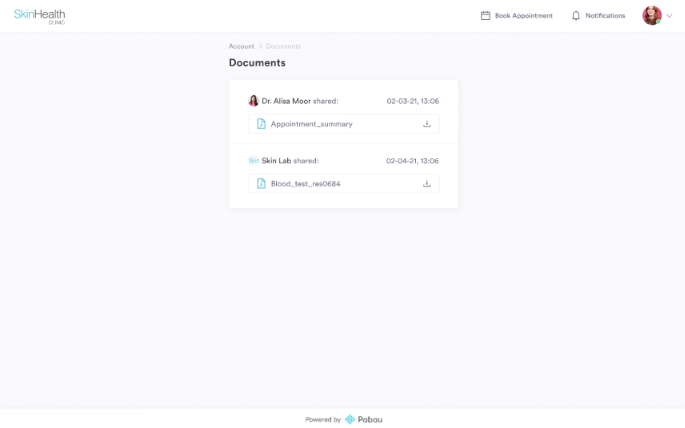 Appointment dashboard

This brand new appointment dashboard, aside from a preview, it will give you the opportunity to leave a comment to the staff member, at any time.
Goals
Patient dashboard;
Simplified user experience;
Notifications system;
Access to more client data.
Added ability to update there medical history.
Added ability to view lab results.
Added ability to search through UK GP database, and update there GP. (For UK & Ireland only)
Added 2 Factor Authentication.
Plans to launch downloadable mobile app which links to your clinic.
Ability to issue prescriptions via connect.
Ability to see referral letters.
Ability to share documents or photos securely back and forth.
Ability for client to export there medical record (GDPR)
Ability for client to share there medical record (GDPR).
Ability to complete forms via the portal.
Ability to add a card onto there file
Ability to see payment history.
Ability to update there allergies.
Ability to update there medications.
Waiting rooms for video conferencing (all done via connect now).