Concepts: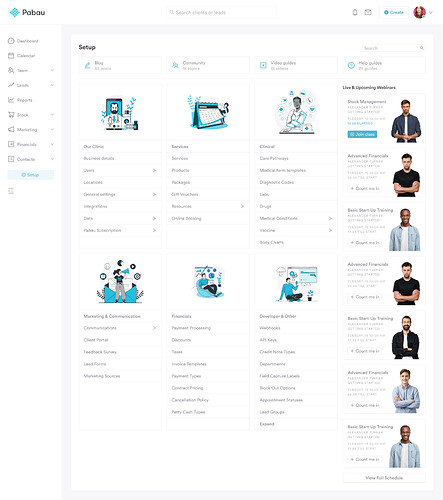 Summary:
We worked on a concept to help you, the every-day user find what you need, from one place, without hopping from one screen to another. Below is the fruit of our labor.
All settings are now on one screen
We put all the settings on one screen to make them easy to find. We organized all the settings into categories (Financials, Marketing, Products and services, and more). and make sure that you will know what each setting stands for.
Search for settings
Time is one of the precious resources we all have. To help you save time, we added a magic search box, to help you find the setting you need way faster.
Knowledge hub
We strongly believe that knowledge is power, which is why we equipped the setup screen with all the training one can need, to seal the last remaining knowledge gaps and help with unleashing the full benefits Pabau can offer. Users can get help from our guides, or watch webinars. You can know what's in the works through our blog, too.
Do you have any ideas to improve the system? We were all ears, but now we are eyes and ears, too. We built a community where you can share all your ideas.
Primary goals:
Faster access to all the settings;
8 new training modules;
Seal the knowledge gaps;
Make your voice heard by integrating our community into the setup screen;
Simplify and group the key features (not to feel overwhelmed);
Help information on every single page.